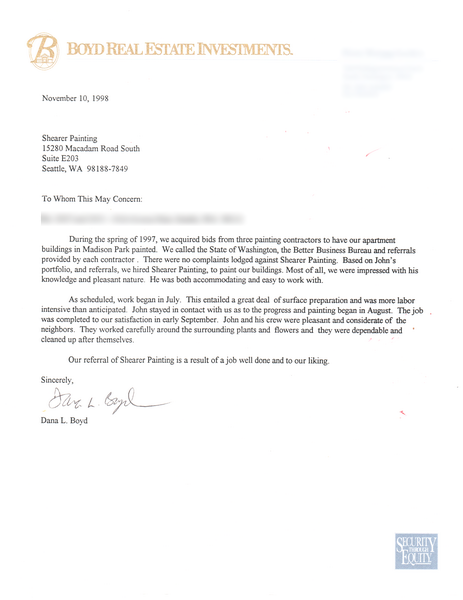 During the spring of 1997, we acquired bids from three painting contractors to have our apartment buildings in Madison park painted. We called the state of Washington, the better business bureau and referrals provided by each contractor. There were no complaints lodged against Shearer Painting. Based on John's portfolio, and referrals, we hired Shearer Painting, to paint our buildings. Most of all, we were impressed with his knowledge and pleasant nature. He was both accommodating and easy to work with.
As scheduled, work began in July. This entailed a great deal of surface preparation and was more labor intensive than anticipated. John stayed in contact with us as to the progress and painting began in August. The job was completed to our satisfaction in early September. John and his crew were pleasant and considerate of the neighbors. They worked carefully around the surrounding plants and flowers and they were dependable and cleaned up after themselves.
Our referral of Shearer Painting is a result of a job well done and to our liking.
Sincerely,
Dana L Boyd