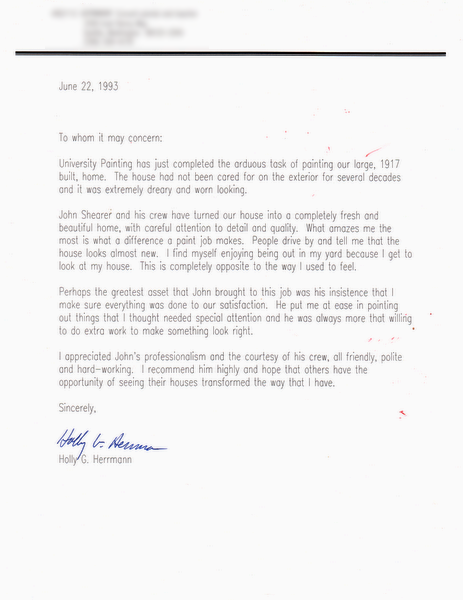 To whom it may concern;
University painting has just completed the arduous task of painting our large, 1917 built, home. The house had not been cared for on the exterior for several decades and it was extremely dreary and worn looking.
John Shearer and his crew have turned out house into a completely fresh and beautiful home, with careful attention to detail and quality. What amazes me the most is what a difference a paint job makes. People drive by and tell me that the house looks almost new. I find myself enjoying being out in my yard because I get to look at my house. This is completely opposite to the way I used to feel.
Perhaps the greatest asset that John brought to this job was his insistence that I make sure everything was done to our satisfaction. He put me at ease in pointing out things that I thought needed special attention and he was always more than willing to do extra work to make something look right.
I appreciated John's professionalism and the courtesy of his crew, all friendly, polite and hard-working. I recommend him highly and hope that others have the same opportunity of seeing their houses transformed the way that I have.
Sincerely,
Holly G Hermann