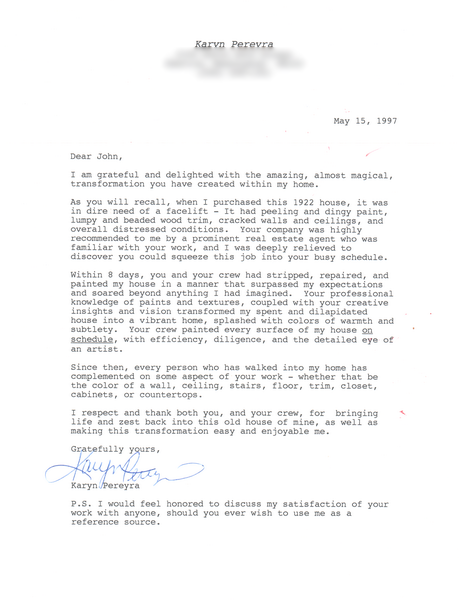 Dear John,
I am grateful and delighted with the amazing, almost magical, transformation you have created within my home.
As you will recall, when I purchased this 1922 house, it was in dire need of a facelift – It had peeling and dingy paint, lumpy and beaded wood trim, cracked walls and ceilings, and overall distressed conditions. Your company was highly recommended to me by a prominent real estate agent who was familiar with your work, and I was deeply relieved to discover you could squeeze this job into your busy schedule.
Within 8 days, you and your crew had stripped, repaired, and painted my house in a manner that surpassed my expectations and soared beyond anything I had imagined. Your professional insights and vision transformed my spent and dilapidated house into a vibrant home, splashed with colors of warmth and subtlety. Your crew painted every surface of my house on schedule, with efficiency, diligence, and the detailed eye of an artist.
Since then, every person who has walked into my home has complemented on some aspect of your work – whether that be the color of a wall, ceiling, stairs, floor, trim, closet, cabinets, or countertops.
I respect and thank both you, and your crew, for bringing life and zest back into this old house of mine, as well as making this transformation easy and enjoyable me.
Gratefully Yours,
Karyn Pereyra
P.S. I would feel honored to discuss my satisfaction of your work with anyone, should you ever wish to use me as a reference source.