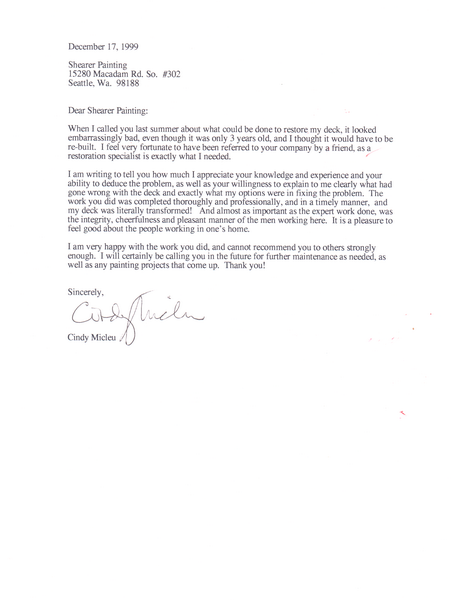 Dear Shearer Painting,
When I called you last summer about what could be done to restore my deck, it looked embarrassingly bad, even though it was only 3 years old, and I thought it would have to be re-built. I feel very fortunate to have been referred to your company by a friend, as a restoration specialist is exactly what I needed.
W am writing to tell you how much I appreciate your knowledge and experience and your ability to deduce the problem, as well as your willingness to explain to me clearly what had gone wrong with the deck and exactly what my options were in fixing the problem. The work you did was completed thoroughly and professionally, and in a timely manner, and my deck was literally transformed! And almost as important as the expert work done, was the integrity, cheerfulness and pleasant manner of the men working here. It is a pleasure to feel good about the people working on one's home.
I am very happy to with the work you did, and cannot recommend to you other strongly enough. I will certainly be calling you in the future for further maintenance as needed, as well as any painting projects that come up. Thank you!
Sincerely,
Cindy Micleu