2011 was the year the water borne oil finish enamel finally arrived as a true replacement for traditional oil enamel for trim and cabinets. Environmental regulation and consumer demand has slowly pushed out oil base paints and replaced them with water-base equivalent; this trend as been building slowly over the last ten years. The early attempts by paint manufacturers to create quality water borne enamels was less than successful as those products were not easy to apply nor was the finished product durable as customers expected from "enamel" paints. The primary challenge manufacturers had to overcome was to develop a water borne enamel that was also durable and low VOC.
2014 Update see Benjamin Moore Advance on this project page
Historically the term "enamel" paint specifically meant a durable gloss oil based protective finish. Now "enamel" is used to describe any coating designed as a durable finish. If you search the internet for "matte" or "flat" enamel you will find many different paint products labeled as such, although the term "matte enamel" is an oxymoron taken in its original meaning and intent.
The two primary water clean-up, oil finish enamel paints available on the Market are:
1. Benjamin Moore Advanced
2. Sherwin Williams Proclassic
In 2011 we extensively used both products on our house painting projects. Here is our review.
Both products are viable alternatives to oil base enamels.
Colorants Advanced supports the GENNEX waterborne colorant system providing VOC-free colorants. Advance is a true alkyd, not a hybrid. Advanced has less than 50 VOC per liter. Pro-classic is also less than 50 grams VOC per liter, but uses the standard glycol based universal colorant system which can add significant VOC for darker colors.
Hardness Advanced and Proclassic are nearly as hard after cure than oil based enamels. In our experience, Advanced cures harder than Proclassic. Both paints should be allowed to cure for a week to judge final finish. Best practice for heavy use should be a one month cure.
Application Both paints have a learning curve as they have different characteristics than virtually any other paints. The paints are very thin and need to be applied in multiple coats. If sprayed the paint should not be reduced with water or any extenders.
See our picture from our Advanced Paint Viscosity Test
Read Jack Pauhl's review for water based enamels.
August 31, 2014 Update: Below is an image from Houzz the doors are painted with Fine Paints of Europe Eco a waterbased alykd modified enamel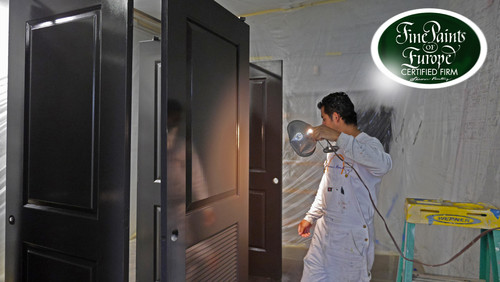 Fine Paints of Europe ECO; water reduced alkyd paint.
House painting with Fine Paints of Europe ECO
Water Reduced Alkyd
Exterior Fine Paints of Europe
Cloverdale Paint waterbased enamel